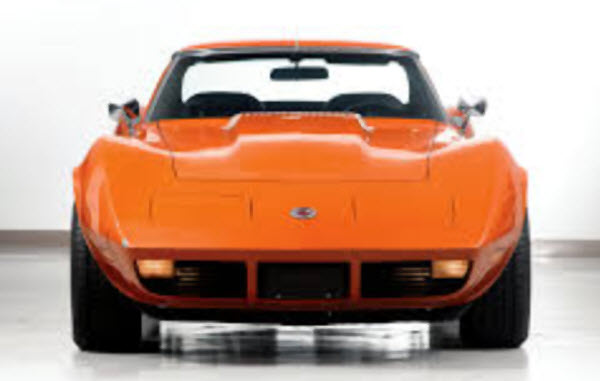 The new safety regulations that had started out quite tentatively during the late 1960's was in full bloom by the time the 1974 Corvette Sting Ray was designed. Lights and other necessary safety gear for the 1973 model had been created to live up to new safety legislation that required them to withstand a 5 mph frontal impact without being damaged. The bumper system was redesigned to provide a higher level of safety and it was now based on an injected moulded urethane cover. The ice cube style grill and the fender louver had also been removed and replaced by a simpler, untrimmed recess.
The 1974 Corvette Sting Ray continued the alterations described above by having the rear chrome bumpers were removed. Many Corvette enthusiasts detested this decision, since chrome had become a sort of signum for the Corvette Sting Ray cars and what they represented. The 1974 Corvette Sting Ray bumpers were however still regarded as one of the most stylish solutions of the time, in a period where most other car used much blunter and less appealing bumpers. The 1974 Corvette Sting Ray bumpers consisted of a two piece design that would not be used by the 1975 Corvette Sting Ray. The style of the 1974 Corvette Sting Ray received some criticism from Corvette aficionados for looking "unfinished", but chief designer Larry Shinoda reportedly felt that it was closer to what the stylists actually intended.
Ten years earlier, in 1964, 22,229 Corvette Sting Ray cars were produced. By 1974, this figure had rose to an astonishing 37,502 cars. An interesting change of the coupe-convertible ratio had also taken place during the last ten years. In 1964, over 60 percent of the manufactured Corvette Sting Ray cars were convertibles. For the 1974 model, the figures had been turned upside down and over 85 percent of the manufactured Corvette Sting Ray cars were now coupes.
The base 1974 Corvette Sting Ray had a 350 cu. in. engine capable of 195 horsepowers, and was equipped with a wide ratio four speed manual transmission. The coupe cost $6,001 while the price tag for the convertible was $5,765. For an additional $299, the 350 cu. in. engine could be boosted up from 195 hp to 250 hp. For those interested in a bigger engine, there was a 454 cu. in. 270hp motor available for $250. Speaking of options, why not spend four bucks on installing dual horns? Nearly 15 percent of all 1974 Corvette Sting Ray buyers did.
You could get your 1974 Corvette Sting Ray in ten different exterior colours: Classic White, Silver Mist, Corvette Gray, Bright Yellow, Corvette Orange, Medium Red, Mille Miglia Red, Dark Brown, Dark Green or Corvette Medium Blue. The available colours for the interior depended on which exterior you picked. If you for instance wanted a Classic White, you could get the interior in silver, neutral, saddle, dark red, dark blue or black. If you instead opted for a Corvette Medium Blue car, your only options for the interior would be silver, black or dark blue.