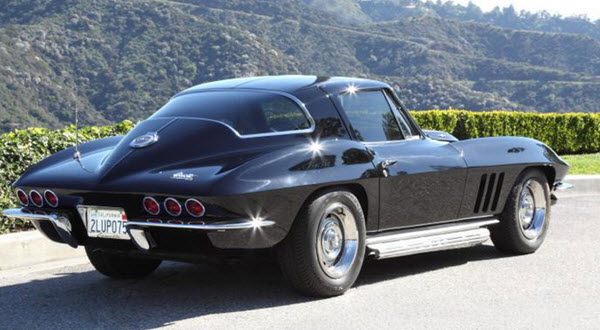 A total of 27,720 1966 Corvette Sting Rays were produced by Chevrolet – nearly 65 percent of them being convertibles. During that era, a new Base Corvette Convertible would cost $4,084 while the Base Corvette Coupe was slightly more expensive and priced at $4,295. The standard equipment for both variants was a three speed manual transmission and a 327 cubic inches 300 hp engine.
The "Big Block" engine of the 1965 Corvette Sting Ray was used for the 1966 model as well. 1966 was the year when Chevrolet finally introduced the celebrated 427 cubic inches engines. For an extra fee of $181, you could become the proud owner of a 427 cu. in. 390hp engine. For those with even more money to spend, a 427 cu. in. 425hp engine was available for $313. The original 327 cu. in. 300 hp engine could be boosted up to 350hp for $105. The 427 cu. in. 425hp engine was installed in slightly more than 18 percent of the cars, and the same figure is true for the 427 cu. in. 390hp engine. As for the 327 cu. in. 300 hp engine, it was chosen by over 27 percents of the buyers.
According to Corvette legend, the 427 cu. in. engine was labelled 425hp to stay clear of any safety legislations. Independent testers claim that the 427 cu. in. engine was actually capable of at least 450 hp. If you picked the expensive a 427 cu. in. 425hp engine for your 1966 Corvette Sting Ray, you would also get four bolt mains, impact extruded aluminium pistons, a Holly 780 CFM carburettor with an aluminium intake, a free-flowing exhaust and an especially forceful camshaft. You would also have the K66 transistorized ignition.
The 1966 Corvette Sting Ray was available in ten different exterior colours: Tuxedo Black, Ermine White, Rally Red, Nassau Blue, Laguna Blue, Trophy Blue, Mosport Green, Sunfire Yellow, Silver Pearl and Milano Maroon. The most popular colour was Nassau Blue which was chosen by over 20 percent of the buyers. With a Nassau Blue exterior, you could have a black, bright blue, white-blue or blue interior. The least popular was Tuxedo Black and no more than 1,190 Tuxedo Black 1966 Corvette Sting Rays were produced. This was despite that fact that the Tuxedo Black exterior offered so many options regarding interior colour: red, saddle, green, blue, bright blue, white-blue, silver or black.
For the 1966 Corvette Sting Ray the Corvette script was altered a bit and the new, more vertically elongated style was introduced. The script was placed on the right rear as well as on the front of the hood on the driver's side. The emblem on the rear deck covered the fuel lid.
As per usual, Chevrolet offered a bunch of options for those willing to pay a little extra. Just as in the 1965 model, you could for instance get headrests, air conditioning and soft ray tinted glass windows. The 1966 model also offered the teak steering wheel for an additional $47 that had been made available for the first time in 1965. A great addition that had not been available in 1965 was the shoulder belts. They cost $26 and were only chosen by 0.13% of the buyers. As a result, no more than 37 cars of the 1966 Corvette Sting Ray model had shoulder belts.