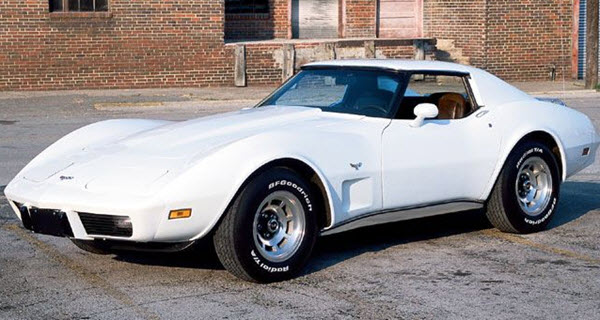 1977 corvette stingray only featured minimal changes. The legislation process regarding safety and environmental concern that had started during the late 1960's became stricter and stricter during the 1970's and Chrysler's engineers had to focus their attention on keeping the Corvette legal without loosing to much of the traditional Corvette feeling. All car manufacturers went through a steel bath during this period. They were forced to find new innovative solutions and develop their cars in new directions to adapt to the new rules. The Arab Oil Embargo had also made the consumers look towards small, efficient cars and many potential buyers turned their back on traditional American fuel guzzling cars.
Many car enthusiasts felt that these years of tentative trial-and-error developments deprived the Corvette Sting Ray cars of their true spirit. During the mid 1980's, the fourth generation of Corvettes remedied earlier problems and the Corvette was once again back in business. The last models of the C3 generation – the Corvette Sting Ray cars manufactured from 1977 to 1982 – are still a comparatively inexpensive option for those interesting in owning a Corvette Sting Ray since they are not as highly treasured among car enthusiast as the other Corvette models.
A few new options were available for the buyer of a 1977 Corvette Sting Ray. You could for instance get a new type of luggage rack, the V54 Luggage and Roof Panel Rack. It cost $73 and nearly 35 percent of all buyers felt that they needed this extra storage space on their new sports car. The V54 was created to function with removable roof panels. In the 1976 Corvette Sting Ray, you could get an AM-FM Radio for $187 or a AM-FM Radio with stereo for $281. The stereo option became extremely popular and was purchased by nearly 75 percent of the buyers. For the 1977 Corvette Sting Ray, Chevrolet therefore tossed in a third option – the AM-FM Radio stereo with 8-track tape. Even though it cost $414, it was ordered by 49,99% of the buyers. This was quite a lot of money back in 1977 when an entire 1977 Corvette Sting Ray Coupe with 350 cu. in. 180 hp engine and wide ratio four speed manual transmission cost no more than $8,647.
The 1977 Corvette Sting Ray was available in twelve different exterior colours: Classic White, Silver, Corvette Tan, Corvette Dark Red, Medium Red, Corvette Orange, Corvette Yellow, Corvette Bright Yellow, Corvette Chartreuse, Corvette Light Blue, Corvette Dark Blue and Black. The most popular choice of exterior colour was Classis White, chosen by nearly 20 percent of the buyers. With a Classis White exterior, you could have your 1977 Corvette Sting Ray interior red, blue, black, brown, buckskin, smoked grey or white. Number two and three in popularity were Black and Corvette Light Blue, both chosen by slightly more than 12 percent of the buyers. If you went for the Black exterior, you had no less than six colours to choose among for the interior: red, black, buckskin, smoked grey or white. If you instead opted for Corvette Light Blue, your choice of interior would be limited to black, white or smoked grey.