On April 27, 2022, General Motors president Mark Reuss announced that Chevrolet is planning to launch an electric hybrid Corvette – the Corvette E-Ray. If everything goes according to plan, the E-Ray will be available in mid-2023 and come with AWD.
The Corvette E-Ray, which is currently being developed, is based on the C8 Corvette.
For Chevrolet, the E-Ray electric hybrid is a stepping stone to an all-electric Corvette they have planned for the future. According to Mark Reuss, Chevrolet plans to continue producing traditional internal combustion engine models alongside electric Corvettes.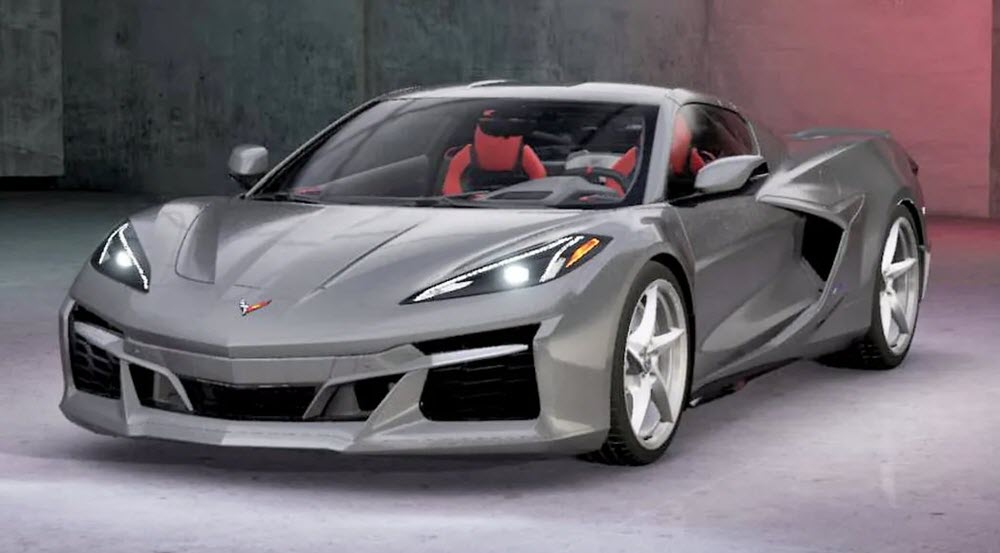 About the Corvette E-Ray
Chevrolet has not announced if the Corvette E-Ray will be a traditional hybrid model or a plug-in hybrid vehicle.
The Corvette E-Ray will use Ultium batteries. That is General Motors own brand of next-generation electric vehicle batteries, and Ultium batteries are currently being used for larger cars such as the Hummer EV and Cadillac Lyriq.
In the Corvette E-Ray, the heat from the Ultium system will be used to increase vehicle acceleration, warm up the cabin and make the charging more efficient.
The car is expected to cost around 85,000 USD upon release.
Allegedly, the E-Ray will use two electric motors for turning the front axle.
The power output is rumoured to be 600 hp, but this has not been comfirmed by Chevrolet.
Background
Rumours about en electric Corvette quickly made it around the globe as soon as it became known that General Motors, in December 2015, had filed two applications to register "Corvette E-Ray" and "E-Ray" as trademarks with the U.S. Patent and Trademark Office.
At this point, Corvette was already facing competition from other marques who had came longer in their work with electric hybrids. There was of course the famous Tesla Model S, but also legacy automaker products such as the Porsche 918, the BMW i8 and the second-generation Acura (Honda) NSX – just to mention a few.
President Biden eager to drive an electric Corvette
The U.S. President Joe Biden is known to love cars and is the original owner of a 1967 Chevrolet Corvette roadster (300 hp, 327-cubic-inch, V8-powered). It was a wedding gift from his father, who was a car salesman.
But maybe there will also be an E-Ray in his future?
In July 2022, the U.S. Congress passed the CHIPS Act of 2022 to strengthen domestic semiconductor manufacturing, design and research, fortify the economy and national security, and reinforce the country´s chip supply chains. Before his official speech following his signing of the CHIP Act, President Biden spoke to members of Congress and press that had gathered on the White House South Law, enthusiastically saying to them that the new electric GMC Hummer could do a 4.1-second 0-60-mph time, "quicker than my Corvette." He also lamented that the Secret Service has banned him from driving his Corvette, and that he was looking forward to getting behind the wheel of the C8 e-Ray electric Corvette – and that he expects to be the first in line to purchase one.